Wall Anchors: The Answer to Bowed Basement Walls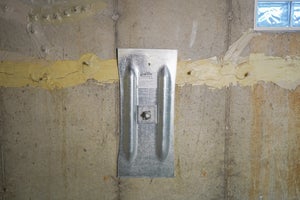 Is your basement sending out SOS signals in the form of bowing walls or unsightly cracks?
Don't ignore these cries for help; they're warning signs your home is under stress. A sturdy foundation is as crucial to your home as a strong backbone is to your body.
Fortify your home's most important support system with the wall anchors from Innovative Basement Authority and turn your basement from a problem area into a pillar of strength.
What Are Wall Anchors?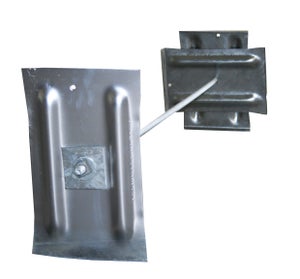 Wall anchors are designed to counteract bowing and seriously damaged foundation walls.
An earth anchor is positioned about 10 feet from the damaged wall in virgin, stable soil. This anchor is then connected to an inner wall plate using a galvanized steel rod.
Our experts adjust the torque to permanently stabilize the basement wall.
How to Identify the Need for Wall Anchors
Wondering if wall anchors are the right fix for your home?
Be aware of these signs suggesting your foundation could benefit from wall anchors:
Cracked Basement Walls: Look for horizontal or diagonal cracks, which indicate your walls are shifting inward.
Bowing or Tilting Walls: Walls that angle inward from either the top or bottom edge need extra reinforcement.
Moisture: Damp areas or water infiltration are indicative of both structural and possible health issues.
Unwanted Odors: Musty, unpleasant smells often point to water entry and mold formation.
Take proactive steps with wall anchors to keep these issues from worsening.
Is a Wall Anchor System Necessary?
Absolutely! Overlooking these signs can jeopardize the safety of your home. Lack of action can lead to water intrusion, mold risks, and, eventually, complete structural breakdown.
Integrating wall anchors into a whole-home repair plan is vital. Combining them with drainage systems like indoor drains and sump pumps offers all-around protection.
Benefits of Wall Anchors
Our tailor-made wall anchor systems offer multiple benefits:
Stops lateral wall movement and reinforce weakening foundation walls
Eases foundation stress
Minimize further expansion of cracks
Sidestep the high costs of total foundation replacement
Transferable warranties
Our specialized wall anchors are also fully compatible with other measures such as drainage enhancements or our IntelliBrace™ Wall System.
Our Wall Anchor Installation Method
Every home is unique, but a standard wall anchor installation by our team often involves: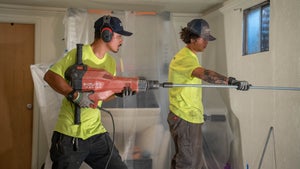 Site Assessment:
Our crews accurately mark positions for each anchor, supported by precise engineering calculations.
Inner Wall Drilling: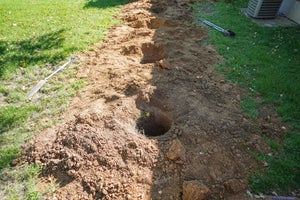 A 1-inch hole is bored into the foundation wall at the predetermined spot, later sealed to waterproof it.
Soil Excavation:
About 10-12 feet away from the problematic wall, a hole is dug, preserving soil for later use.
Rod Insertion: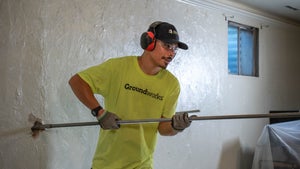 A robust, galvanized steel rod is pushed through the hole in the wall into the soil.
Outer Soil Anchor Installation:
An earth anchor is placed in the excavated hole and connected to the rod.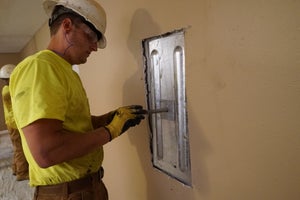 Sealing:
Multiple products are used to permanently waterproof the hole.
Inner Wall Plate Attachment:
We install a wall plate and secure it to the wall.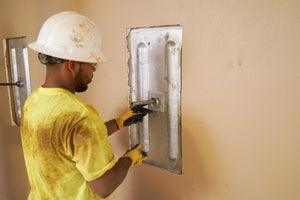 Adjustment:
We tighten the wall anchor system to the correct torque based on your wall type.
Landscape Repair:
The excavated soil is returned to the hole and compacted, minimizing future settling.
Our wall anchors can not only stop further wall movement but also often correct leaning walls through this procedure.
Why Choose Innovative Basement Authority's Wall Anchors?
For long-lasting stability against foundational issues, trust Innovative Basement Authority's wall anchor solutions.
Our local technicians are well-versed in the specific soil and climate conditions in your area. Our wall anchors are built to safeguard your home's foundation for years to come.
Book your free inspection today.
FAQs
The duration may vary depending on the project size and foundation issues, but it usually takes between one to three days.
Our installation procedures are designed to have minimal impact on your outdoor areas. We strive to restore your landscaping to its original condition. 
Yes, our wall anchors are versatile enough to be used on various types of foundations, like block walls or poured concrete. We'll assess your specific needs to recommend the best approach. 
Publish Date:
Last Modified Date: