IntelliBrace™ Wall Repair System
Is your basement marred with cracks and bowed walls? Don't wait until your home's foundation is a ticking time bomb—fix it with IBA.
Innovative Basement Authority offers the IntelliBrace™ Wall Repair System—a proven solution that turns your bowing walls into pillars of strength.
Dig into the details about IntelliBrace™ to help you decide the best course of action for your home. 
What Is the IntelliBrace™ Wall Stabilization System?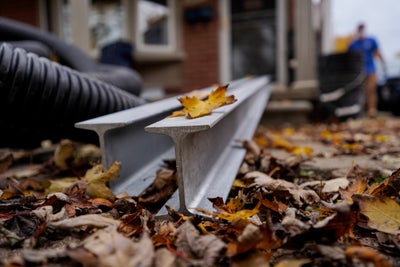 IntelliBrace™ is a patented technology engineered explicitly to stabilize bowing or unstable basement walls.
Unlike traditional I-beams, IntelliBrace™ is anchored to both your floor joists and the basement floor itself, delivering superior stability. These beams not only halt wall movement but also offer the potential to straighten walls over time.
7 Signs You Might Need IntelliBrace™
Aside from glaring structural issues, there are other signs that may indicate a need for basement wall stabilization.
Here's a rundown of signs to watch for:
Curved Basement Walls
Gaps between Floor and Wall
Sloping Floors
Water Intrusion
Is IntelliBrace™ Necessary?
If you notice your basement walls cracking or bowing, it's crucial to tackle the problem without delay. Procrastinating could exacerbate the issue and result in steeper repair costs down the road.
Innovative Basement Authority recommends the IntelliBrace™ Wall Stabilization System as a proactive measure to restore your home's structural integrity.
We offer solutions tailored to your basement's specific needs. While IntelliBrace™ is often our top pick, we also have alternative options such as wall anchors and carbon fiber straps that may better suit your home.
Contact our specialists for a free, no-obligation assessment and estimate. We're committed to securing your home according to its individual needs.
Key Benefits of the IntelliBrace™ Wall Stabilization System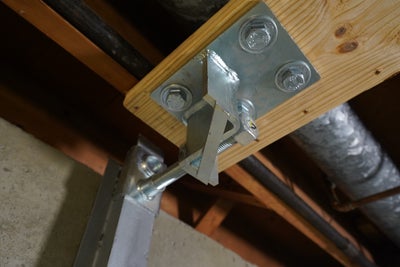 Hassle-Free Installation: IntelliBrace™ is installed from within your basement, avoiding any outdoor excavation. Plus, it occupies less room than old-school I-beams.
Robust Stability: IntelliBrace™ beams provide superior foundational support, ensuring your basement walls remain strong.
Gradual Wall Realignment: The system allows you to slowly correct the wall position over time.
Premium Quality: Our focus on specialized product development means you get the most effective solution, outlasting generic options you might find at hardware stores.
Overall, IntelliBrace™ offers a dynamic and efficient approach to resolving basement issues, ensuring both immediate structural stabilization and long-term resilience. 
How Innovative Basement Authority Installs IntelliBrace™
Step 1: Free Inspection
We start with a free, obligation-free inspection to gauge the level and type of basement wall issues. Our experts will determine the best course of action, measure your walls, and identify the precise locations for beam installation.
Step 2: Precise Beam Sizing 
Your basement is unique, and so are its needs. After thorough examination, we custom cut each IntelliBrace™ beam to fit your specific wall heights. This attention to detail expedites the installation and ensures high-caliber results.
Step 3: Mounting to Floor Joists 
During the installation, we securely fasten the top of each IntelliBrace™ beam to a floor joist using a robust bracket system. This process does not compromise the integrity of your floor structure, and our team verifies your floor joist strength beforehand. 
Step 4: Beams Positioned Correctly 
Our installers make sure each IntelliBrace™ beam is perfectly vertical, utilizing leveling tools to prepare for the next phase of installation.
Step 5: Secure Beams to Basement Floor 
The final step involves anchoring the beams to your concrete basement floor using specialized brackets. The IntelliBrace™ system extends the entire height of your basement walls, offering a comprehensive solution unlike typical repair methods.
Step 6: Periodic Adjustments to Wall Position 
IntelliBrace™ features a unique adjustable bolt. This allows for periodic tightening to progressively realign your walls. We offer scheduled maintenance checks to ensure enduring structural integrity.
Why Choose IntelliBrace™? 
The IntelliBrace™ Wall Stabilization System offers unparalleled efficacy in repairing basement walls that are bowing, tipping, or suffering from wall shearing. We also offer annual maintenance services and flexible payment options to keep your home fortified without breaking the bank.
Contact Innovative Basement Authority for Reliable Basement Wall Stabilization! 
Putting off basement repairs can snowball into more substantial structural issues and greater financial burden.
Trust Innovative Basement Authority for prompt and effective services, potentially saving you from expensive future problems.
Reach out to us for a free inspection and take the initial step in safeguarding your home's future.
FAQs: IntelliBrace™ Wall Repair System
Generally, the installation process takes between one and two days, although this can vary based on your basement's condition and size.
Absolutely, we offer a transferable warranty for the IntelliBrace™ system as part of our commitment to quality.
Yes, you can continue living in your home during the installation. Our team adheres to stringent safety protocols to minimize disruptions and ensure your well-being.