Foundation Pier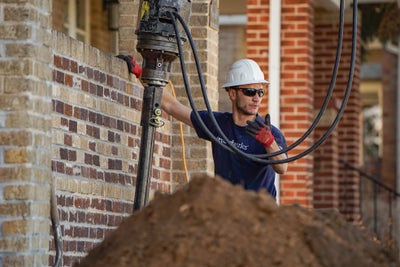 A strong foundation is crucial for the overall structural integrity and safety of your home. When foundation settlement starts to occur, it not only risks the stability of your property but also jeopardizes your family's well-being.
Immediate action is necessary if you observe signs like uneven floors or wall cracks.
Innovative Basement Authority is committed to delivering custom foundation repair solutions, including the expert installation of foundation piers. These piers are customized to suit your individual home needs, ensuring enduring stability and security.
Learn more about the significance of foundation piers and why Innovative Basement Authority is the partner you can rely on.
What Are Foundation Piers?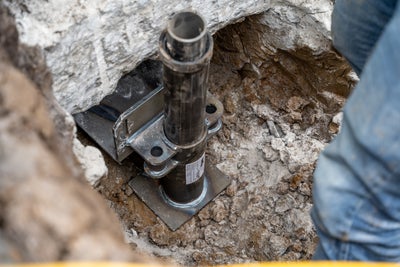 Foundation piers are specialized underground supports designed to stabilize and reinforce a building's foundation. They are typically made of strong materials like steel and are driven deep into stable soil or bedrock beneath your home.
The primary function of foundation piers is to redistribute the weight of the structure onto more secure ground, mitigating issues like foundation settlement or sinking. By doing so, they help maintain the integrity and safety of the building, making them a crucial component in foundation repair and long-term structural stability.
When used in combination with other treatments like basement waterproofing or crawl space repair, foundation piers are indispensable for ensuring your home's structural soundness.
Signs You Need Foundation Piers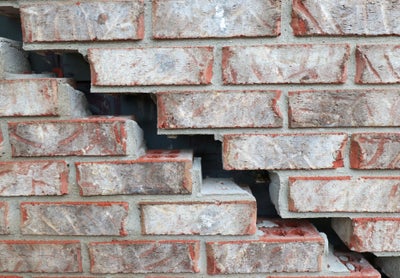 The first step toward effective foundation repair involves recognizing the telltale signs of foundation issues.
Watch out for:
Signs of stress in drywall, such as nail pops
Damaged bricks
Separations in the flooring
If you notice any of these signs, contact Innovative Basement Authority immediately. We provide free foundation inspections and recommend custom repair solutions.
Are Foundation Piers Necessary? 
Yes. Foundation piers are crucial for delivering long-term stability to sagging foundations and mitigating further harm.
Timely action usually translates to cost savings. Postponing foundation repair can rapidly inflate costs as the condition deteriorates.
We strongly recommend prompt attention at the first sign of any symptoms.
Our customized repair strategies will also consider various factors like the type of damage and its severity.
What Are the Different Types of Foundation Piers? 
Innovative Basement Authority offers three types of foundation piers—helical, push, and slab—crafted to meet your home's specific needs and the soil conditions in your area.
Helical Piers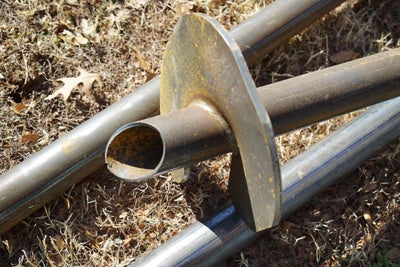 Our SettleStop™ Helical Pier System consists of steel pillars with helical plates on the ends, effectively anchoring your home to stable soil.
Here's our installation process:
Excavating the soil to expose the footing
Using hydraulic equipment to advance the piers into the soil
Monitoring the piers' progress until they reach the necessary depths and capacities
Attaching a durable steel bracket to the footing
Benchmarking the piers with small rivets in exterior walls
Backfilling excavated soil
Push Piers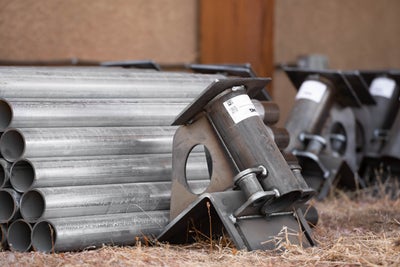 The SettleStop™ Push Piers are designed with elongated steel rods, driven into the earth with powerful equipment. These piers capitalize on the house's inherent stability.
Installation steps include:
Excavate soil to expose the foundation footing
Attach a footing bracket
Drive piers through the bracket, deep into the ground
Monitor depths and capacities
Place benchmarks on exterior walls
Backfill removed soil
Slab Piers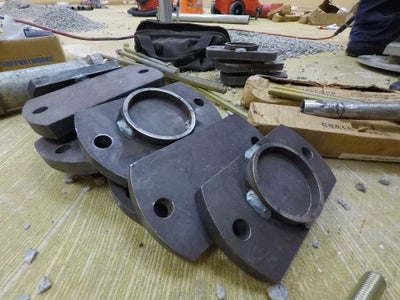 Our SettleStop™ Slab Piers are specifically designed for homes with slab foundations.
Installation steps include:
Removing any flooring
Auguring a hole through the slab to expose the footing
Placing a bracket under the footing
Advancing sections of the piers into the ground
Monitoring depths and capacities
Affixing a bracket to the slab
Pouring concrete into the hole and ensure a smooth finish
Innovative Basement Authority provides a specialized range of piers, each tailored to meet the specific requirements of your foundation type and the soil around your home.
What Are the Benefits of Foundation Piers? 
The benefits of foundation piers go beyond merely fixing a sinking foundation, offering long-term stability, enhanced safety, and even potentially increasing the value of your home.
Our foundation piers offer:
Permanent Repair: Each pier contributes to lasting foundation stability.
Protection Against Further Settling: Our piers act as safeguards against any future ground movement.
Durability: Built to last, ensuring your foundation is secure permanently.
Optional Lifting: The ability to potentially lift your home back to its original level, if safe.
Lifetime Guarantee: All our piers include a transferrable, nationally backed lifetime warranty.
Why Our Foundation Piers Are the Best Choice for Your Home 
In addition to the benefits mentioned, our foundation piers offer:
Superiority over generic alternatives
Optimization for local soil conditions
Enduring durability and performance
Lifetime warranty inclusion
Ongoing service plans for maintenance
Contact Innovative Basement Authority for Foundation Piers Today!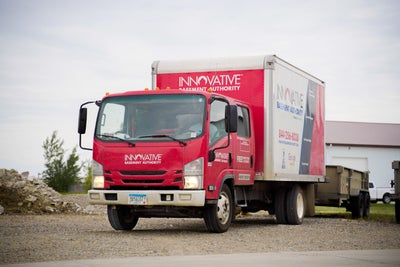 Your home's foundation integrity is not to be taken lightly. Choose the smart path by teaming up with Innovative Basement Authority.
With years of expertise in the field, we are your go-to resource for a secure and stable home. Contact us now to schedule your free inspection and quotation.
Foundation Piers FAQs
The cost can vary greatly depending on the type of piers used, the number of piers required, and other factors such as labor and location. It's best to get multiple quotes from qualified professionals for an accurate estimate. 
Foundation piers are often used to correct issues related to foundation settlement, to enhance the structural integrity of a building, or to support additional loads that a conventional foundation might not be able to handle. 
Typically, no maintenance is needed, but it's wise to have regular foundation checks to catch any possible issues early on. 
Publish Date:
Last Modified Date: