AquaStop™ Basement Sump Pumps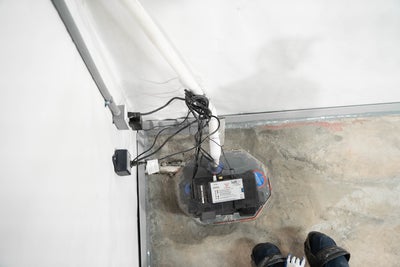 Water in the basement can be a homeowner's nightmare, leading to potential damage, loss of valuable possessions, and decreased property value.
Innovative Basement Authority understands the upheaval caused by water. Our AquaStop™ Sump Pumps are designed to intercept water before it causes harm, ensuring the integrity of your basement is maintained.
Explore this page to learn about the essential role of sump pumps in comprehensive basement waterproofing and why AquaStop™ Sump Pumps by Innovative Basement Authority are your best bet.
What is an AquaStop™ Sump Pump System?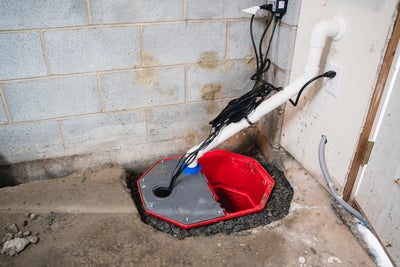 AquaStop™ Sump Pump System is strategically placed at the basement's lowest point, effectively redirecting water collected from the internal perimeter drainage system and pumping it out and away from your home.
A sump pump is essential for maintaining the structural integrity of your basement against potential water leakage and flooding.
Our state-of-the-art sump pumps come with a water alarm, sump liner, airtight lid, and premium cast iron pumps, making AquaStop™ Sump Pumps a beacon of reliability and high-level performance.
Signs You Need a Basement Sump Pump
Understanding the red flags indicating you need a sump pump is vital.
Warning signs include:
Musty, moldy odors
Mold
High humidity levels
Water leakage through foundation cracks
If you observe any of these signs, reach out to a basement waterproofing company right away. Innovative Basement Authority has experience and personalized products to prevent further water damage.
Is a Sump Pump Necessary?
Yes, a sump pump is a main element in an effective basement waterproofing system.
Without it, water from the drainage system can stagnate, fostering mold and mildew and potentially compromising structural integrity.
Addressing this crucial need is important in avoiding additional problems. AquaStop™ Sump Pumps are part of a whole-home waterproofing solution, sustaining a healthy living environment.
What Are the Different Kinds of AquaStop™ Sump Pumps?
Innovative Basement Authority offers a variety of sump pump solutions, customized to your basement's unique needs.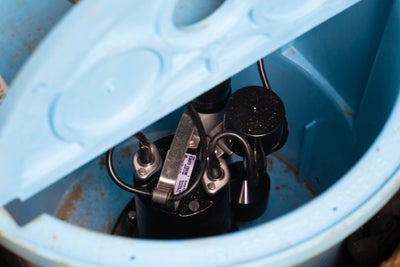 AquaStop™ Single Basement
This model operates a SafeDri™ cast iron pump ideal for everyday water removal, available in SafeDri™ ⅓ hp or ½ hp pump variants. The ⅓ hp variant can remove over 2,000 gallons per hour, and the ½ hp variant over 3,000 gallons per hour.
AquaStop™ Single Basement with Battery Backup
This pump is fitted with a battery backup, operational during power failures, and capable of pumping over 11,500 gallons of water on battery power per hour.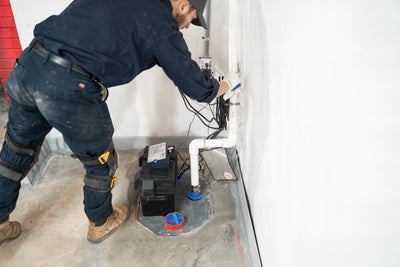 AquaStop™ Triple Basement
The AquaStop™ Triple Basement offers our highest level of protection with three pumps. It includes a primary SafeDri™ ⅓ hp pump for everyday usage; a secondary SafeDri™ ½ hp pump for overload situations or primary pump failure; and a third battery backup pump for power outages or circuit breakdowns.
Our specialists will analyze your basement and suggest the most suitable AquaStop™ system for your needs.
What Are the Benefits of the AquaStop™ Sump Pump System?
Investing in a dependable sump pump system brings multiple advantages:
Guaranteed Basement Dryness: Quick water removal mitigates flood risk.
Total Home Protection: It integrates seamlessly with other waterproofing measures like interior drainage systems, vapor barriers, and dehumidifiers.
Uninterrupted Operation: Featuring up to triple redundancy and backup options, ensuring seamless functioning during extreme weather and power outages.
Durable Protection: Manufactured with superior materials, offering longevity and reliability.
Innovative Basement Authority is your go-to for advanced basement waterproofing solutions, delivering unparalleled service and product reliability.
Contact us today to arrange your free inspection.
How AquaStop™ Sump Pumps Work
Once an IBA expert has reviewed your basement and suggested the appropriate AquaStop™ sump pump system, our comprehensive installation process ensures every step is meticulously covered, from excavation to system testing.
Below are the steps your installation team may follow:
Determine the lowest point of the basement
Excavate the floor to accommodate the sump liner
Excavate the perimeter for the interior drainage system
Place interior drains in the trench
Connect drains to the sump basin
Place pumps and components in the sump liner
Add interior sump pump discharge pipes
Direct discharge pipes through the basement wall
Install exterior discharge pipes, extensions, and anti-freeze discharge line attachment
Run electrical hookup to control panel
Attach battery backup if deemed necessary
Test the pumping system
Attach an airtight lid to the sump basin
Pour cement to restore the concrete floor
Here's how this system works to keep your basement safe and dry:
The interior drainage system collects leaking water.
Water is directed to the sump pump system.
Once water reaches a certain level in the basin, it activates the pumping system.
Water is pumped out of the basement and away from your home.
With over 15 years of proven solutions, Innovative Basement Authority remains a trusted name in basement waterproofing, providing unmatched customer experience and product dependability.
Why Our Sump Pumps are the Best Choice for Your Home
AquaStop™ Sump Pumps from Innovative Basement Authority boast unique features including:
Elite cast iron pumps
Water alarms
Sealed lids
Various protection tiers
Smooth integration with other solutions
Backup options
Maintenance packages
Extensive warranty options
Trust Innovative Basement Authority for unparalleled sump pump solutions and comprehensive home protection.
Reach Out to Innovative Basement Authority for Your Sump Pump Solutions Today!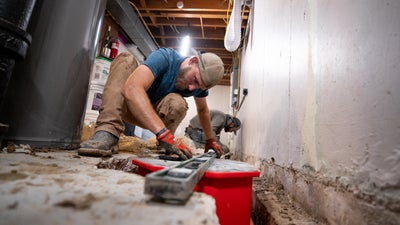 The constantly changing weather means a waterproofed basement is a necessity in our region. Our dependable sump pump and other waterproofing solutions ensure peace of mind against potential water damage.
Book a free, obligation-free inspection and quote today and experience the comfort of a dry basement.
FAQs
Signs of failure can include strange noises, irregular cycling, continuous running, visible rust, or water not being pumped out of the sump pit.  
Regular checks and proper maintenance are crucial to determine the cause and eliminate basement floods.
Coverage for sump pump failure is not typically included in standard homeowner's insurance policies but can often be added as an optional rider.  
Yes, having a battery backup sump pump is highly recommended to ensure continuous operation during power outages or in the event of a blown breaker. 
Publish Date:
Last Modified Date: