Basement Mold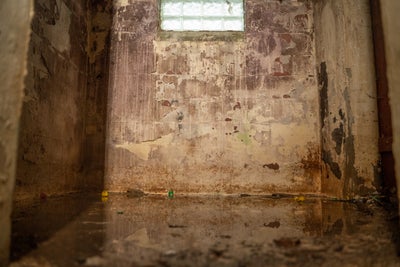 Many homeowners often overlook the severity of basement mold, not realizing that it can significantly affect both health and home stability.
Not only does mold compromise indoor air quality, but it also endangers your home's foundation.
Innovative Basement Authority is devoted to offering specialized basement waterproofing methods that help control and eradicate mold. Our advanced products and installation methods offer durable solutions for a healthier, safer home.
Continue reading to find out how mold forms, its potential dangers, and how our precision moisture control systems can prevent its growth. 
What Is Basement Mold? 
Basement mold is a type of fungus that grows in damp, dark environments, feeding off organic materials like wood and certain kinds of insulation.
The appearance of mold can vary; it can be black, green, white, or gray and often gives off a distinctive, unpleasant smell.
The most common types of basement mold are:
Aspergillus
Penicillium
Cladosporium
Alternaria
Some forms of mold are little more than aggravating, but some are toxic, like black mold. This type of mold can exacerbate respiratory conditions and trigger allergies.
If you find mold, it's a red flag for an underlying moisture problem that can eventually undermine your basement's structural integrity.
DIY efforts usually only offer a temporary solution, making professional evaluation and remediation essential for completely eradicating mold.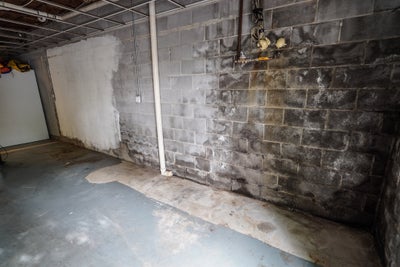 What Causes Basement Mold? 
The main cause of mold in your basement is high moisture levels.
For mold to grow, it needs:
Organic material as a food source
Moisture
Oxygen
Moreover, the following factors create a conducive environment for mold:
Poor air ventilation
Water leaks and wet areas
Cracks in the walls and flooring
Failing plumbing systems
High indoor humidity levels over 55%
Routine activities, like laundry or cooking, can also amplify humidity levels, worsening the issue. 
Can You Fix Basement Mold? 
Yes, mold in the basement can be eliminated, but it requires a comprehensive approach.
Merely wiping down the mold with bleach or common cleaning agents is inadequate; it does not solve the core issue and may even be harmful to health.
If you spot mold, consult an expert in mold remediation right away.
Permanent mold prevention requires a specialized waterproofing system to resolve moisture issues in your basement.
How to Fix Basement Mold: The Innovative Basement Authority Method 
The first step in addressing basement mold starts with a professional mold removal consultation, followed by tackling the moisture problem.
Here's how Innovative Basement Authority helps you manage moisture:
Comprehensive Analysis: Our experts evaluate your home to pinpoint the root causes and propose customized solutions.
Sealing Cracks and Openings: We seal leaks by mending wall and floor cracks, utilizing the right basement waterproofing or foundation repair solutions to prevent recurrence.
Drainage Solutions: Our innovative internal drainage systems collect and channel away any seepage.
Sump Pump Systems: We install heavy-duty sump pumps to evacuate accumulated water.
Vapor Barrier: Our top-of-the-line vapor barriers prevent moisture from entering through the walls.
Humidity Regulation: We use energy-efficient dehumidifiers to maintain indoor humidity under 55%, effectively preventing mold.
Ongoing Care: Annual maintenance services are available to ensure your system's longevity and effectiveness.
At Innovative Basement Authority, we offer tailored solutions designed to tackle every aspect of moisture and mold control. Unlike generic solutions, our products deliver both efficiency and durability. 
Why Address Basement Mold Now 
Ignoring mold growth can lead to:
Quick Spreading: Mold can expand dramatically within 24-48 hours if moisture is present.
Health Risks: Unaddressed mold can aggravate existing conditions like asthma or allergies.
Structural Damage: Persistent dampness and mold can cause decay in your home's structural elements.
Persistent Smells: Musty odors are hard to get rid of.
Decreased Home Value: The presence of mold can reduce your home's market value.
Don't risk your home's health—let Innovative Basement Authority and our custom-engineered solutions help you. Our products are designed to keep your home dry and reinforce its structural integrity, far surpassing standard solutions. 
Contact Innovative Basement Authority for Dependable Basement Moisture Solutions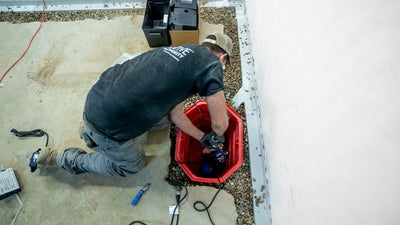 Don't compromise your home's well-being. Reach out to Innovative Basement Authority to effectively deal with basement mold and moisture.
With nearly 20 years of expertise, the certified team at Innovative Basement Authority can assess, identify, and offer lasting solutions to eliminate mold.
Book your free, no-obligation inspection now. 
FAQs
Not all types of mold in the basement are toxic. However, some, such as black mold, can produce toxins that are detrimental to health.
Mold exposure may lead to respiratory distress, skin reactions, headaches, and allergies. Continued exposure to toxic molds can result in more severe health issues.
DIY solutions usually offer a band-aid fix and fail to address the underlying moisture problem. For a long-term solution to mold and moisture, it's advisable to seek expert help. Schedule your free inspection with Innovative Basement Authority today.
Publish Date:
Last Modified Date:
Explore more problem signs