BasementGutter™ Interior Drainage System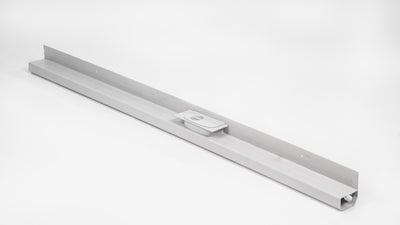 Dealing with a wet or flooded basement is overwhelming for homeowners. It's not only unsafe but also threatens the structural stability of your cherished home.
At Innovative Basement Authority, we understand—we're homeowners too. Our state-of-the-art BasementGutter™ Interior Drainage System is ultimate protection against water in your basement.
For more than 15 years, we've been your trusted basement waterproofing company, delivering solutions to permanently put a stop to water-related problems.
Let us show you the IBA difference.
What is AquaStop BasementGutter™ Interior Drainage?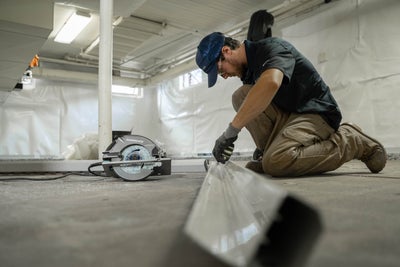 BasementGutter™ Interior Drainage is a cutting-edge waterproofing system designed to sit on top of the footer along the interior perimeter of your basement.
Any water entering, either from the walls or where the floor and the wall meet, is directed through the system to the sump pump where it is removed.
By installing it on top of the footer, out of the "mud zone," the BasementGutter™ requires very little maintenance as it does not clog. A 3/8" wall flange enables water from the walls to enter the system without any obstruction.
The system, although arguably the most important, is just a component of a comprehensive home waterproofing approach, ensuring a healthy and dry living atmosphere.
Signs You Need Interior Drainage
Look out for these warning signs that point towards the need for an interior drainage system:
Increased basement humidity
Mold growth
Constant musty smells
Address these concerns right away by contacting a specialized basement waterproofing service like Innovative Basement Authority. Quick actions prevent expansive damage and surging repair expenses.
Is Interior Drainage Necessary?
Yes. Without an interior drainage unit, your home is at risk of structural damage.
DIY solutions, like sealant paint are only temporary fixes and often result in more costly repairs down the road.
Trusting in proven services by Innovative Basement Authority. Our products stand the test of time and will provide a dry basement permanently.
What Are the Benefits of the AquaStop BasementGutter™ Interior Drainage System?
Effective Water Diversion: BasementGutter™ channels water away, averting potential damage and mold development.
Seamless Integration: Works with our other waterproofing solutions and can be merged with various services and foundation repair systems.
Foundation Safeguard: Stops water exposure to concrete structures, mitigating decay and cracks.
Peace of Mind: By keeping water out of your basement, you can have the confidence to travel, relieving stress even during wet seasons.
To maximize these benefits, choose our other proprietary solutions as well. We've engineered our products to outperform generic items, offering you the best protection available.
How We Install AquaStop BasementGutter™ Interior Drainage
Our installation process, initiated after a thorough inspection, is as follows:
Remove 6-12 inches of concrete around the interior perimeter.
Drill weep holes in the bottom courses of concrete block walls for water movement.
Place BasementGutter™ in the trench and backfill with stone.
Set a vapor barrier on top.
Connect the drainage channels to the sump pump.
Pour cement to replace the concrete floor.
Additional solutions may include a wall vapor barrier, dehumidifier, and anti-freeze sump pump discharge line attachment, all installed professionally by Innovative Basement Authority.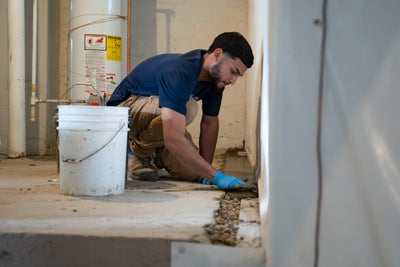 Why Our Interior Drainage is the Best Choice for Your Home
Our BasementGutter™ Interior Drainage System stands out due to its:
Placement above the "mud zone"
Sophisticated anti-clog features
Ability to capture water from walls, floors, and joints
Smooth integration with other waterproofing elements
Comprehensive warranty protection
Sustained safeguard with our yearly maintenance plans
Other options like PVC pipes and big-box store alternatives fail because they clog and crush easily. But AquaStop BasementGutter™, exclusive to IBA, stands above the rest as an effective solution to keep your basement water-free for years to come.
Contact Innovative Basement Authority for Interior Drainage Solutions Today!
Stop water in your basement and secure your home's value and structural integrity with Innovative Basement Authority's trusted solutions. Connect with us for a free, no-obligation inspection.
For more than 18 years, homeowners have depended on our expertise to protect their homes, and we are eager to assist you.
FAQs
An interior basement drain is a water management system installed inside the basement to redirect water leakage away from the foundation to prevent flooding and water damage.
Interior basement drains are essential for preventing water accumulation, mold growth, and structural damage in basements, particularly in areas prone to high rainfall or water table levels.
Not at all, our system is designed for minimal upkeep, supported by our annual service agreements. Reach out to Innovative Basement Authority for more information and to schedule your annual maintenance services.
Publish Date:
Last Modified Date: