Commercial Foundation Repair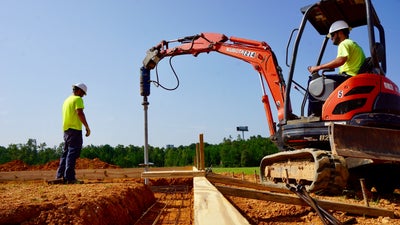 In the commercial realm, challenges like cracking foundations, eroding soil, and water damage don't just pose an inconvenience—they can halt business operations and incur financial setbacks.
Innovative Basement Authority stands as a pillar of reliability for comprehensive commercial foundation repair services in our region. Boasting nearly 20 years of hands-on experience and a team of certified experts, we offer adaptative and resourceful repair services finely tuned to the multifaceted needs of our commercial clientele.
Choose us for your foundation repair, and what you'll get is a resilient fix supported by unparalleled expertise.
This page will provide you with a better understanding of our enterprise, customer-focused services, and custom solutions.
How We Approach Commercial Foundation Repair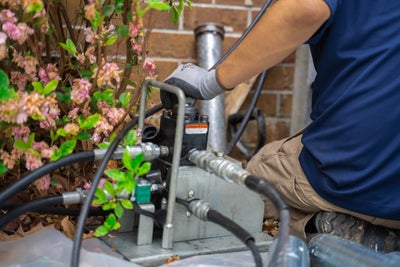 Our methodology for commercial foundation repair combines cutting-edge technology with seasoned professionals and an unyielding dedication to excellence.
The journey starts with a complete inspection to pinpoint the foundational issues your property is dealing with. From there, our skilled inspectors and field technicians craft a customized plan aimed at remedying the issue while causing the least possible intrusion to your day-to-day business.
We make use of best-in-class products like heavy-duty pier systems and various wall supports, all of which undergo rigorous vetting for long-term performance and durability.
Selecting Innovative Basement Authority translates to receiving top-grade repair work and a robust, enduring solution.
What We Offer in Commercial Foundation Repair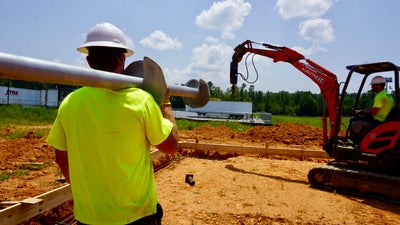 Innovative Basement Authority offers an extensive portfolio of services to satisfy the diverse demands of our commercial clients, such as:
Helical Piers: Perfect for stabilizing foundations of lighter constructions to thwart further settling.
Push Piers: An ideal choice for fortifying more substantial foundations.
Slab Piers: Engineered for enhancing the integrity of slab-on-grade foundations.
Wall Repair & Reinforcement: Additional fortification techniques, featuring our carbon-fiber supports, steel I-beams, wall and channel anchors, add lasting strength to compromised walls.
Other Custom Repairs: Specialized solutions sculpted to address the unique challenges your property faces.
Our comprehensive service offerings undergo stringent testing and professional installations, ensuring they surpass industry benchmarks and yield trustworthy outcomes.
Reach out to Innovative Basement Authority to arrange your free inspection and cost estimate to discover more about how we can cater to your specific needs.
Signs Your Commercial Property Needs Foundation Repair 
Identifying the early signs of foundation troubles is vital for effective repair measures.
Keep an eye out for these frequent indicators:
Drywall cracks
Drywall nail pops
Brick cracks
Floor cracks
Sunken foundation
Wall shearing
Swift action upon noticing these symptoms is crucial to halt further deterioration and to reduce longer-term financial implications.
Contacting a seasoned foundation repair specialist like Innovative Basement Authority is the proactive approach to avert further complications.
Benefits of Choosing Innovative Basement Authority for Your Commercial Foundation Repair 
Choosing Innovative Basement Authority for commercial foundation repair comes with a multitude of benefits, such as:
Speed & Efficiency: We get that time is a valuable resource in commercial settings. Our processes are streamlined for minimal downtime.
Depth of Knowledge: Our nearly15 years of dedication to serving commercial clients has given us the insights and technical expertise to evaluate and remedy foundations effectively.
Budget-Friendly: Our flexible solutions are crafted to yield enduring relief from foundation issues, thus providing long-term economic benefits.
Cutting-Edge Products: Our usage of state-of-the-art, certified products ensures the highest levels of performance.
Permanent Fixes: Our repair methods offer everlasting stability and are engineered to resist additional damage from elements like soil expansion and settlement.
Lifetime-Backed Repairs: Our work is built to endure, safeguarded by a comprehensive warranty.
Business-Friendly: Our expert teams are proficient in performing repairs with minimal disruption to your regular commercial activities.
We're more than a foundation repair provider; we're your ally in maintaining the structural wellness and longevity of your commercial real estate.
Contact Innovative Basement Authority for Your Commercial Foundation Repair Needs Today!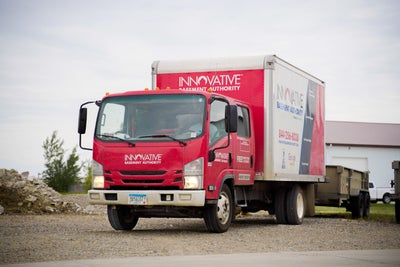 Minor foundational problems can rapidly escalate into major liabilities. Don't gamble with the security and longevity of your business estate.
Touch base with Innovative Basement Authority for a free, no-obligation inspection. We are committed to creating efficient, and top-tier foundation repair services. Our aim is to stabilize your commercial property for years to come.
FAQs
Absolutely, our product suite aligns with or surpasses existing industry testing standards. Connect with us to find out more and to arrange a free inspection and cost estimate. 
The timeline is contingent on multiple variables, including the magnitude of the problem, the scope of the required work, and the types of materials needed. We'll collaborate closely with you to expedite the project with minimal business interruption. 
We undertake commercial foundation repair initiatives for an array of buildings, including retail establishments, storage facilities, production sites, hospitality units, residential complexes, office buildings, and more. 
Publish Date:
Last Modified Date: