Helical Piers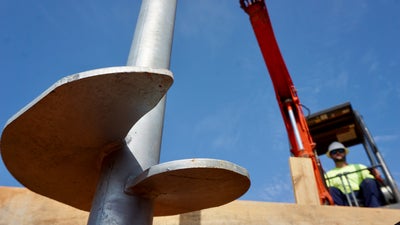 A solid foundation means a secure home. If you're grappling with foundation settlement issues, quick repair is critical to stop future safety hazards.
Helical piers stand as a proven solution for stabilizing weak foundations. Should you observe signs of foundation damage in your home, these piers are a reliable way to regain structural integrity and avert future complications.
Innovative Basement Authority specializes in delivering superior foundation repair services, which include the strategic use of helical piers.
Read on to discover the enduring benefits of utilizing helical piers to strengthen your home's foundation.
What Are Helical Piers?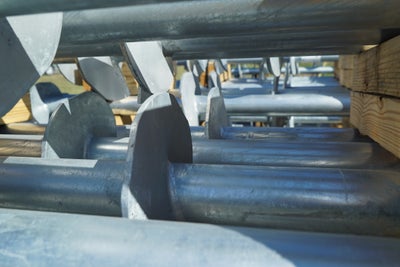 Helical piers, alternatively known as helical piles or screw piles, function as foundational supports. They are engineered to transfer a building's load from unstable soils to more secure, underlying strata or bedrock. Beyond stabilization, these piers even offer the possibility of elevating sinking foundation segments.
Comprising steel shafts with helical flanges, helical piers penetrate deep into the earth, ensuring exceptional load-bearing capacity.
The incorporation of helical piers is a vital element in a whole home repair plan, often complementing other essential tasks like basement waterproofing or crawl space sealing.
Benefitting from advanced engineering, helical piers provide a lasting support system aimed at securing your foundation for the long haul.
Signs You Need Helical Piers
The following indicators suggest that your home may greatly benefit from helical piers:
Drywall cracks
Popping nails in drywall
Brick cracks
Flooring cracks or separations
Ignoring these red flags can intensify the issue and result in more costly and complex repairs. Contact a reputable foundation repair expert like Innovative Basement Authority to keep these issues from escalating.
Are Helical Piers Necessary?
When your home shows any of the previously mentioned signs, implementing helical piers is necessary. Delay only worsens the problem and may introduce other issues such as water intrusion.
Promptly reinforcing your foundation with helical piers is not only cost-effective but also guards against more severe structural damage down the line.
At Innovative Basement Authority, we provide an all-encompassing approach to diagnosing foundation complications and creating an effective, custom-tailored solution for your home.
While helical piers prove to be highly efficient, they're not a one-size-fits-all answer. Our array of solutions also encompasses alternatives like push piers and slab piers, recommended based on a no-obligation, free inspection.
What Are the Benefits of Helical Piers?
Opting for our helical piers brings along a wide range of advantages, including:
Permanent Stability: Our helical piers provide durable and long-lasting foundation support.
Instant Reinforcement: Professionally installed helical piers stop further foundation deterioration, minimizing prospective damage.
Lift Possibility: Under specific circumstances, helical piers can lift a sagging foundation back to its original position.
Lifetime Warranty: We offer a lifetime warranty on our helical piers for your peace of mind.
Seamless Compatibility: Our helical piers integrate effortlessly into our broader home improvement strategies.
Innovative Basement Authority guarantees top-tier services and products, assuring optimal outcomes for your household.
How We Install Helical Piers
The installation process of our helical piers requires a specialized skill set in the realm of foundation repair.
1. Thorough Assessment
Our team conducts an exhaustive inspection of your property to gauge the condition of the foundation and pinpoint optimal locations for helical pier installation.
2. Foundation Dig
Our skilled crew excavates to reveal the foundation footer for accurate preparation.
3. Pier Embedding
State-of-the-art hydraulic machinery is employed to insert the helical piers into the soil, with torque levels meticulously monitored. 
4. Bracket Attachment
A heavy-duty steel bracket is fastened to the foundation footer, linking it with the helical pier and subsequently assuming the building's weight.
5. Elevation Attempt
Where possible, we try to elevate any sinking parts of the foundation using hydraulic lifting methods.
6. Site Rehabilitation and Benchmarking
Post-installation, we restore the affected areas and clean up any debris, ensuring your property is left in good condition. Markers are also placed above each pier location for future stability assessments.
Choose Innovative Basement Authority for unparalleled helical pier installation services and sleep soundly knowing your home's foundation is secure.
Why Our Helical Piers Are the Best Choice for Your Home
Our helical piers offer unique advantages:
Versatile Applications: Ideal for both new constructions and existing foundation challenges.
Swift Implementation: Our trained teams complete the installation efficiently.
Load Efficacy: Strategically positioned for maximum load-bearing effectiveness.
Environmentally Responsible: Minimal ecological footprint with limited excavation required.
Year-Round Feasibility: Installable throughout the year.
Contact Innovative Basement Authority for Helical Piers Today!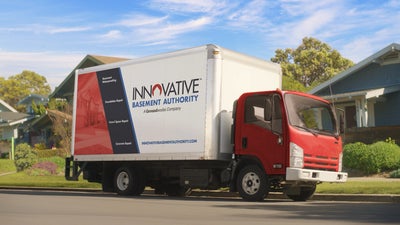 Don't let foundation issues escalate. Procrastination can make matters worse and more expensive in the long term.
Reach out to Innovative Basement Authority today for a free inspection and quote.
Invest in our helical piers for enduring foundation stability and peace of mind.
FAQs
Helical piers are considered to be environmentally friendly as they require less soil displacement compared to other foundation methods. 
Due to their depth and the materials used, helical piers are typically not adversely affected by freeze-thaw cycles in the soil.  
Helical piers are adaptable and suitable for a range of construction types, including residential, commercial, and industrial ventures. They are especially beneficial in locales with subpar soil conditions. 
Publish Date:
Last Modified Date: