Driveway Repair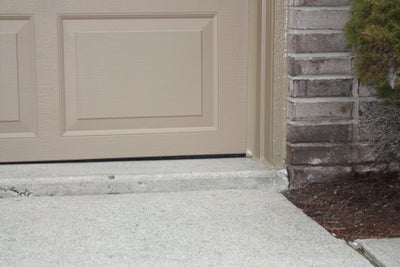 Has your driveway seen better days? Are cracks, unevenness, or a generally worn appearance becoming all too apparent?
Innovative Basement Systems proudly introduces our SettleStop™ PolyRenewal™ concrete lifting technology—a quick, efficient, and long-lasting solution designed to repair your driveway, ensuring its safety and aesthetic appeal. Our polyurethane foam injection method lifts and stabilizes your driveway, offering a long-lasting solution.
For nearly 20 years, homeowners throughout the region have entrusted us with their concrete lifting needs, recognizing our commitment to customized service and lasting repairs. Learn why our driveway lifting and restoration services are precisely what your home requires.
What is Concrete Driveway Repair?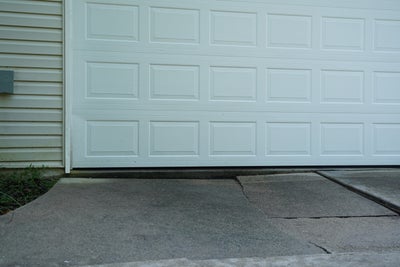 Addressing the visible imperfections and potential hazards of a damaged concrete driveway is needed.
Traditional methods such as mudjacking, or completely replacing the concrete, have become outdated; they are costly, less durable, and do not address the underlying issues.
At Innovative Basement Systems, our exclusive PolyRenewal™ system targets the underlying issues caused by unstable soil and excess water, offering a comprehensive solution that not only repairs your driveway but also enhances the overall appeal of your property.
A well-maintained driveway adds curb appeal, improves the functionality of your home, and has the potential to increase its market value.
Signs Your Concrete Driveway Needs Repair
Recognizing the signs of wear and tear early on can lead to significant cost savings and prevent further damage.
Here's what to look for:
Visible Cracks: Noticeable cracks or deep fissures exceeding a quarter inch in width.
Sinking Sections: Areas of the driveway appear to sag.
Pooling Water: Accumulation of water on or near the driveway.
Edges Deteriorating: The sides of the driveway showing signs of crumbling.
Additional Surface Concerns: Pitting, flaking, or changes in the concrete's color.
Addressing these issues promptly can stop their progression, averting more severe problems, potential safety hazards, and costly future repairs. Rely on Innovative Basement Systems for your driveway solutions.
Is Concrete Driveway Repair Necessary?
Yes. Repairing your concrete driveway is not just necessary—it's crucial. Over time, all concrete driveways are susceptible to the challenges posed by shifting soil, tree roots, and the freeze-thaw cycles common in our climate.
Postponing necessary repairs allows moisture to seep underneath the driveway, accelerating erosion and causing further settling. Procrastination only exacerbates the problem, narrowing your repair options and escalating costs.
Early intervention with concrete lifting ensures comprehensive driveway lifting before conditions worsen.
Additionally, our team will assess whether your foundation is contributing to your driveway issues, offering a whole-home solution.
What Are the Benefits of Concrete Driveway Repair?
Opting for concrete lifting for your driveway comes with numerous benefits:
Damage Mitigation: Addressing cracks and lifting sunken areas prevents further damage, stops water infiltration, and halts soil erosion—protecting your investment and circumventing costlier repairs down the line.
Enhanced Safety: A level driveway eliminates tripping hazards and standing water, ensuring safety for all.
Curb Appeal: A well-maintained driveway enhances the overall appearance of your home, potentially increasing its market value.
Durable Repairs: Our team delivers lasting repairs, addressing both visible issues and underlying problems for a comprehensive solution.
Choosing Innovative Basement Systems means choosing premium products, unparalleled expertise, and a commitment to environmental stewardship. Our PolyRenewal™ concrete lifting system is designed for longevity, efficacy, and minimal environmental impact, ensuring you receive nothing but the best.
How We Install Concrete Driveway Repair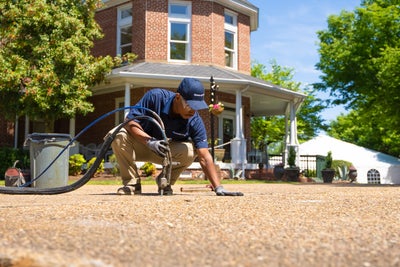 Here's a step-by-step breakdown of our PolyRenewal™ system at Innovative Basement Systems:
Inspect the driveway to determine the damage, cause, and appropriate repair.
Drill penny-sized holes into the affected areas.
Insert injection ports into the holes.
Mix a closed-cell polymer foam.
Inject the foam underneath driveway slabs.
Allow the foam to expand and cure within 15 minutes.
Lift the slab and stabilize the soil underneath.
Remove the ports and smooth the drilled holes.
Apply sealant to cracks and joints to prevent future damage.
Implement a maintenance and monitoring plan.
Choosing Innovative Basement Systems ensures meticulous, effective repairs resulting in a sturdy, reliable solution.
Why Our Driveway Repair is the Best Choice for Your Home
Our PolyRenewal™ system stands out for a multitude of reasons:
Precision: We ensure exact lifting and stabilization.
Minimal Disruption: Our method is quick and non-invasive, without the need for large machinery or extensive yard disturbance.
Lightweight Solution: The foam we use is significantly lighter than materials used in older repair methods.
Rapid Turnaround: Your driveway is ready for use in as little as 15 minutes.
Durability: Our materials are robust and designed to withstand the test of time.
Versatility: We can repair various concrete surfaces around your property, not just driveways.
Environmental Responsibility: We prioritize eco-friendly materials in our repairs.
Seamless Restoration: Post-repair, your driveway will look seamlessly restored.
Contact Innovative Basement Systems for Concrete Driveway Repair Today!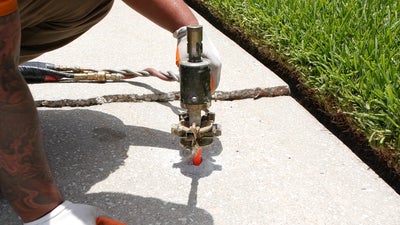 Don't let a deteriorating driveway diminish the appeal of your home. Choose Innovative Basement Systems for expert concrete lifting and embrace a repaired driveway.
Armed with advanced tools, cutting-edge technology, and extensive expertise, we provide tailored repairs using PolyRenewal™, ensuring a brilliant transformation of your driveway space.
Schedule a free, no-obligation inspection.
FAQs
Concrete lifting is generally more affordable and less time-consuming than replacing the entire driveway, making it a preferable option for many homeowners. Concrete replacement also doesn't address the root cause, the unstable soil, so cracking and sinking is likely to happen again. 
Most driveway lifting projects can be completed within one day, though larger or more complex driveways may take longer. Each repaired slab, however, is ready for normal use within just 15 minutes.
Regular inspections can help ensure no further sinking occurs. Addressing any drainage issues and repairing cracks can also help maintain the driveway's integrity. 
Publish Date:
Last Modified Date: