Sinking Foundation
Have you started noticing warning signs, such as jamming doors and cracks appearing in your drywall? These might initially appear to be minor annoyances, but they could signify a more serious problem—a sinking foundation that needs immediate action. 
Innovative Basement Authority specializes in diagnosing and remedying foundation sinking issues. With cutting-edge solutions and professional expertise, our aim is to safeguard your home.
What Is a Sinking Foundation? 
When your foundation begins to sink, it's usually undergoing an uneven lowering into the ground. This condition is often referred to by experts as "differential settlement."
It happens when the soil beneath your foundation is unable to evenly support the weight of the structure.
Here are typical signs that suggest your foundation is sinking:
Cracked drywall
Exterior brick cracks
If neglected, a sinking foundation can escalate into significant structural issues and even pose safety risks.
What Causes a Sinking Foundation?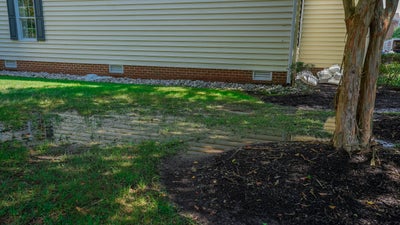 Various factors contribute to foundation sinking, including:
Soil Moisture Fluctuation: The soil can expand with water absorption and contract upon drying, forming voids around or under your foundation over time.
Drainage Issues: Poor water evacuation can cause soil instability, leading to weakened foundation support.
Soil Compaction: Soil that was not adequately compacted can fail to sustain the weight of your home.
Clay Soil Traits: Clay soil's natural tendency to expand when wet and contract when dry puts added stress on your foundation.
Proximity of Trees: The roots of nearby trees can absorb soil moisture, creating gaps and potential weakness under your foundation.
Can You Fix a Sinking Foundation? 
Certainly! It is possible to repair a sinking foundation using specialized expertise and proven tools. The secret to a lasting fix involves correctly stabilizing the foundation using established techniques.
Addressing a sinking foundation goes beyond simple home repairs; it's a complicated structural challenge that demands specific expertise and professional execution. For this reason, it's essential to seek out qualified experts for a comprehensive inspection and proven solutions.
How to Repair a Sinking Foundation 
Innovative Basement Authority employs the use foundation piers designed to reach stable soil or bedrock. These piers bear the weight of your home, transferring it away from problematic soil.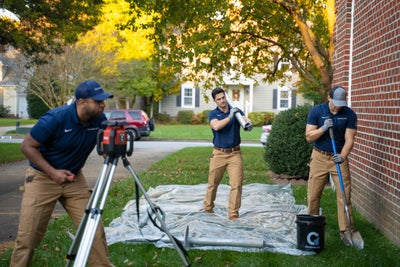 We offer several types of foundation piers for different needs:
Push piers are inserted deep into the ground using specialized machinery.
Helical piers are twisted into the ground to ensure solid support.
Slab piers are used specifically to support sinking concrete slabs.
Why Address Sinking Foundations Now? 
It's essential to deal with your sinking foundation sooner rather than later for several reasons:
Halt the progression of structural damage
Re-establish the structural safety of your home
Prevent the widening of existing cracks and other issues
Rectify jamming doors and sticking windows
Add value to your home before a sale
Don't delay—consult the foundation sinking specialists at Innovative Basement Authority for a free inspection and estimate. 
Contact Innovative Basement Authority for Sinking Foundation Solutions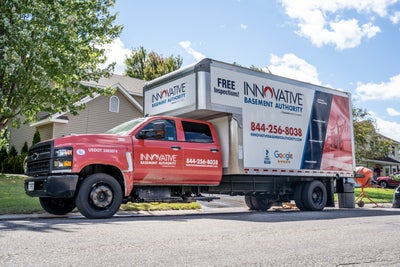 If you've noticed signs of a sinking foundation, reach out to Innovative Basement Authority immediately. Our expert team will examine your foundation and propose durable, effective solutions to stabilize your home.
Addressing foundation issues can be overwhelming, akin to a car malfunction but on a grander scale. That's why we offer flexible financing options to alleviate not just your structural problems but your financial concerns as well.
With over 18 years of industry experience, we can expertly identify any foundation issues and provide guaranteed repairs.
Schedule your free inspection and quote today!
Sinking Foundation FAQs
Proper drainage, regular inspection, and maintaining consistent moisture levels around your home can help mitigate the risk of a sinking foundation. 
The rate at which a foundation sinks can vary widely depending on various factors like soil conditions, climate, and the weight of the structure. It could be a slow process taking years or happen relatively quickly over months. 
Slab piers can be installed under the sinking concrete slab to offer stabilization and potentially elevate the slab to its original position.