Collapsing Retaining Wall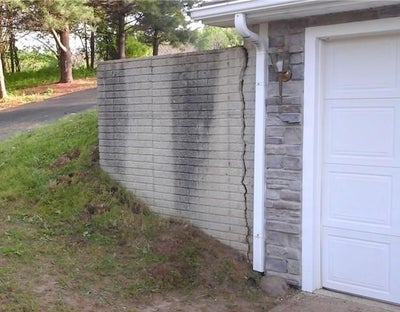 A collapsing retaining wall isn't just a cosmetic issue; it's a structural and safety concern that could affect the value of your property.
Innovative Basement Authority has been a trusted provider of foundation repair solutions for homeowners throughout the Dakotas, Minnesota, eastern Montana, and western Wisconsin for more than 15 years. We know that the security of your home matters, which is why we offer expert and durable solutions to fix your collapsing retaining walls.
By the end of this article, you'll have a solid grasp of why retaining walls deteriorate and how expert intervention can mitigate further risks.
What Is a Collapsing Retaining Wall?
A collapsing retaining wall is essentially a failing structure, unable to support the soil and other materials it was engineered to hold back.
The symptoms of this failure can manifest in several forms such as:
Cracks
Wall tilting or slanting
Total collapse or failure
Such failures can result in soil displacement, and even minor landslides. They can also lead to consequential damage to the adjacent walls of your home's foundation.
The primary role of a retaining wall is to counterbalance the lateral force of the soil, transforming sloped terrains into usable spaces like gardens or driveways. When this wall collapses, the supported ground becomes a safety liability.
What Causes a Retaining Wall to Collapse?
Several factors can contribute to the breakdown of a retaining wall, including:
Subpar Construction: Using poor-quality materials, flawed design, and lacking a stable foundation can compromise the wall's integrity.
Water Pressure: Soil expansion can exert hydrostatic pressure that the wall can't resist over time.
Water Buildup: Insufficient drainage can cause water to collect behind the wall, exacerbating pressure.
Soil Deterioration: Erosion can undermine the wall's base, making it unstable.
Plant Roots: Roots from nearby trees can disrupt soil composition and weaken the wall.
Material Aging: Over time, materials can lose their structural capabilities.
Determining the exact reason is crucial for effective, long-term repair. Innovative Basement Authority offers no-obligation, free inspections to diagnose the problem and suggest a tailored repair plan.
Can You Fix a Collapsing Retaining Wall?
Yes! Walls showing notable signs of tilting or cracks can be reinforced. However, effective repair involves more than a quick patch job. Temporary solutions like adding fill soil or sealing cracks with concrete are only temporary.
For true stabilization and potential straightening, the wall's foundation needs to be strengthened, moisture drained, and the wall itself reinforced. Innovative Basement Authority offers guaranteed, permanent repair methods for this purpose.
How to Fix a Collapsing Retaining Wall
At Innovative Basement Authority, we acknowledge that each property is unique, needing individualized repair approaches. Here's our basic repair procedure:
Initial Inspection
Our specialists visit your property for a complimentary inspection to diagnose the problem, after which we propose a repair strategy that fits your budget and needs.
Wall Reinforcement
We employ robust wall anchors to solidify the wall, halt further shifting, and potentially rectify its condition.
Installation involves: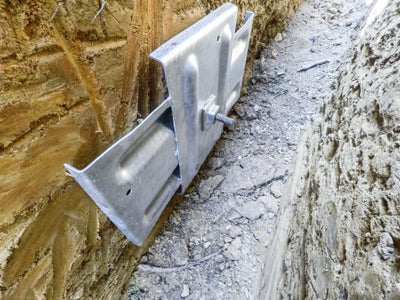 Digging several feet away from the retaining wall
Drilling a hole in the retaining wall
Advancing a connecting rod through the hole
Embedding an earth anchor plate in the excavated area
Attaching the rod and earth anchor plate
Placing a wall plate on the retaining wall
Connecting the wall plate and rod
Backfilling excavated dirt
Tightening the wall plate and rod for potential wall improvement
Drainage
The correct setup and regular upkeep of external drainage mechanisms, including gutters and downspouts are essential. These systems serve as your initial safeguard against excess water accumulation near your home and crucial structures like retaining walls.
Innovative Basement Authority presents a specialized range of repair solutions, tailored to your individual requirements. Our high-quality products are designed to provide long-lasting protection and performance.
Why Address a Collapsing Retaining Wall Now
Tackling a collapsing retaining wall early is essential for several reasons:
Further damage can cause collapse and property destruction.
Tilted walls are safety risks and eyesores.
Poor drainage from a faltering wall can cause water-related problems.
Neighboring structures and landscaping may become unstable.
Repairs become increasingly complex and costly as time passes.
Failing walls can severely affect your property's worth.
Choose Innovative Basement Authority's whole-home repair services for a secure and functional landscape, backed by our industry-leading long-term warranty.
Contact Innovative Basement Authority for Retaining Wall Stabilization Solutions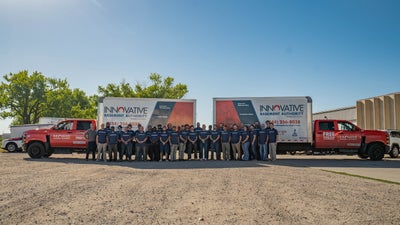 Reach out to Innovative Basement Authority for a free inspection if you notice any instability or cracks in your retaining walls. Our specialists will assess the situation and offer a permanent solution for wall stabilization.
With nearly two decades of experience in revitalizing failing retaining walls, we are the experts you can rely on. Your safety and satisfaction are our priorities.
Contact us today for effective retaining wall repairs.
FAQs
Common signs of a failing retaining wall include leaning or tilting, cracks either in the wall itself or in the ground near the base, bulging, and separation of the wall from adjoining walls or the ground. Water seepage through the wall can also indicate failure.  
It's important to address the issue as soon as possible to prevent further damage, which could impact the adjoining property and present a safety hazard. Prompt action could also lower repair costs.  
The duration depends on several factors, but most repairs are usually completed within a week. During the free consultation, our inspector will discuss the project timeframe.