Cracked Pool Deck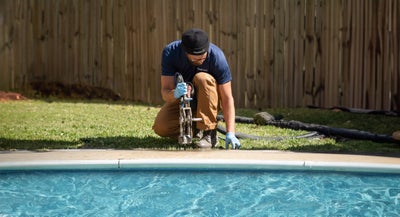 A swimming pool should be fun and relaxing, but issues with the pool's surrounding concrete can spell trouble.
Cracks in pool decks not only mar your home's appearance but are a safety risk. Innovative Basement Authority brings expert knowledge and tools to promptly address these challenges.
Boasting nearly 20 years of experience in concrete lifting, we're dedicated to providing reliable solutions that preserve your home's aesthetics and safety.
Understand what causes cracked pool decks and see how Innovative Basement Authority employs the revolutionary SettleStop™ PolyRenewal™ system for precise restoration.
What Is a Cracked Pool Deck? 
A cracked pool deck refers to any split or break in the concrete perimeter of an in-ground pool.
These cracks might be surface-level or run deep, jeopardizing the stability of the pool deck. More than a mere eyesore, they can be tripping hazards, particularly with wet feet.
Deep cracks may allow water penetration, accelerating concrete wear, encouraging mold growth, affecting aesthetics, and risking structural integrity.
Signs suggesting you have a cracking issue are:
Concrete surface pitting, discoloration, and flaking
Cracks in driveways
Uneven sidewalks
Sinking concrete patios
Settling porches
Uneven concrete steps
These symptoms will only get worse with time, if not addressed right away. Innovative Basement Authority is equipped and ready to restore your pool deck to its former glory, eliminating dangerous tripping hazards.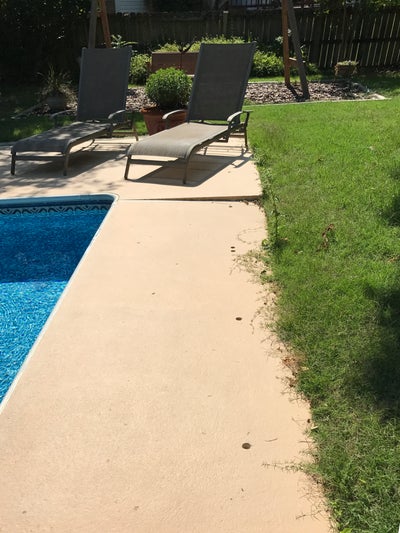 What Causes a Cracked Pool Deck? 
Various elements contribute to pool deck cracking:
Shifting Soil: The ground beneath the deck, if unstable, can move, leading to concrete settling and eventual cracking.
Soil Erosion: Pool chemicals can weaken the soil, creating voids, causing the concrete to crack or sink.
Aggressive Tree Roots: Strong tree roots can displace the soil underneath, heaving sections of the deck.
Heavy Rainfall: Over-saturated soil can erode, endangering the deck's stability.
Temperature Fluctuations: The freeze-thaw cycles in some regions can place stress on the concrete, leading to splits.
Installation Issues: Missteps during the concrete pouring or setting phase can induce cracks and structural issues.
It's possible that several of these factors can combine to create substantial damage to the pool deck. Ground instability that affects pool decks can also jeopardize a home's foundation, requiring urgent expert attention.
Can You Fix a Cracked Pool Deck? 
Yes! Addressing a cracked, uneven pool deck is essential. Simple crack filling or surface treatments fall short. Traditional methods like mudjacking can be demanding and won't resolve the root causes.
A whole-home approach is vital for a lasting repair. This ensures primary issues are resolved and protects your home's structural integrity.
Innovative Basement Authority deploys state-of-the-art techniques to both stabilize and raise distressed areas of pool decks. Our signature SettleStop™ PolyRenewal™ foam solution gently raises sunken concrete, ensuring robust support.
How to Fix a Cracked Pool Deck 
Innovative Basement Authority's experienced team uses this strategy for installation:
Inspection: Our experts conduct a thorough inspection to determine the root cause and design a customized plan.
Drilling: We drill tiny holes, about the size of a penny, in the affected concrete sections.
Insert Ports: Injection ports are then installed into these holes.
Foam Mixing: The distinct components of our polyurethane foam are combined.
Application: The foam is injected underneath the concrete through these ports.
Foam Solidification: The foam expands rapidly, filling voids, raising concrete, and curing in 15 minutes.
Ports Removal: Once done, we extract the ports and seal the holes.
Crack Sealing: We make sure to seal all the cracks to prevent moisture entry.
Maintenance: Regular maintenance is advised to ensure the longevity of our repair work.
Innovative Basement Authority's technique not only resolves visible damage but also targets underlying concerns, ensuring long-term outcomes. Our unique products are tailored to your needs, surpassing conventional methods.
Why Address Pool Deck Cracks Now 
Choosing to act quickly once you notice cracks helps with:
Damage Mitigation: Neglected cracks can deepen, possibly affecting the internal steel reinforcement, further compounding the problem.
Safety Assurance: Uneven areas around pools are dangerous. Prompt solutions can reduce tripping hazards.
Economic Repairs: Early interventions are generally more cost-effective than delayed, more extensive overhauls.
Property Worth: Addressing issues in time maintains your recreational space's appeal and structural health.
For trusted solutions, choose Innovative Basement Authority. Our advanced techniques and tools ensure unmatched precision and effectiveness, rising above standard industry solutions.
Contact Innovative Basement Authority for Reliable Concrete Pool Deck Solutions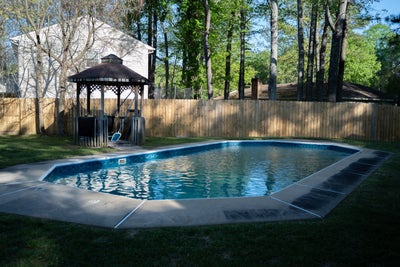 Don't let a deteriorating pool deck diminish your home's allure and safety. With Innovative Basement Authority, you get effective, long-lasting solutions to all pool deck issues. Reach out for a free, no-obligation inspection, and let us show you the IBA difference.
For nearly 20 years, homeowners have trusted our expertise for pool deck lifting and leveling. Experience our top-tier service quality and the power of PolyRenewal™.
FAQs
It's a good practice to inspect your pool deck at the start and end of each pool season and after any significant weather events.  
Yes! SettleStop™ PolyRenewal™ is engineered to repair concrete surfaces effectively without adversely affecting the environment. This solution is water-resistant and ensures no chemical leakage into the surrounding soil. 
Proper construction with expansion joints, regular sealing, avoiding excessive weight, and ensuring proper water drainage can help in preventing cracks. 
Publish Date:
Last Modified Date:
Explore more problem signs