AquaStop WallSeal™ Basement Vapor Barrier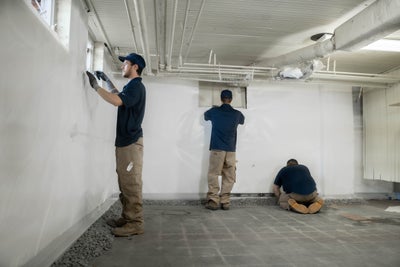 It's a common homeowner belief that basements are meant to be damp, but this misconception could cost you more than you think.
Moisture in the basement can not only damage the structure of your home but also pose serious health risks to you and your family.
Innovative Basement Authority offers a revolutionary solution—AquaStop WallSeal™ Basement Wall Vapor Barrier. Combined with our other cutting-edge waterproofing solutions, this vapor barrier offers unparalleled defense against moisture, protecting the foundation of your home from potential water damage and ensuring you live in a healthy environment.
What is the AquaStop WallSeal™ Vapor Barrier?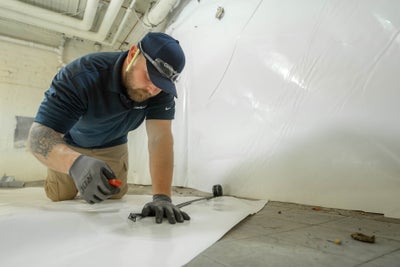 The AquaStop WallSeal™ Vapor Barrier is a robust 12-mil thick membrane, explicitly designed to combat moisture penetration through the basement walls. It is meticulously anchored to the walls, directing any leakage into our advanced AquaStop BasementGutter™ interior drainage system, ensuring immediate protection against dampness.
This heavy-duty vapor barrier is a critical component in our integrated home solution, enhancing your home's strength and value when combined with other waterproofing solutions such as sump pumps and dehumidifiers.
Signs You Need a Basement Wall Vapor Barrier 
Addressing the need for a vapor barrier is crucial when confronted with:
Musty scents
Observable mold
Cracks in basement walls
Increased humidity
Neglecting these signs and delaying repairs can lead to more damage and health complications. Innovative Basement Authority provides free inspections and tailored solutions to address these basement concerns.
Is a Basement Wall Vapor Barrier Necessary? 
Yes, a basement wall vapor barrier is crucial for implementing a comprehensive basement waterproofing plan. A professional will determine whether your specific basement requires a vapor barrier or not. Installing AquaStop WallSeal™ Vapor Barrier can help in proactively handling of moisture, ensuring a healthy and dry home environment.
What Are the Benefits of the AquaStop WallSeal™ Vapor Barrier? 
Implementing our top-grade vapor barrier yields:
Durable Protection: Crafted with superior materials, it promises enduring protection.
Healthy Environment: It aids in reducing humidity and halting mold propagation, ensuring a healthier abode.
Elimination of Musty Odors: It seals off moisture, eradicating the source of damp smells.
Security for Belongings: It safeguards stored items and prevents damage to valuables by maintaining a dry atmosphere.
Enhanced Property Worth: A moisture-free basement augments the market value of your property.
Our trained technicians ensure the correct installation of AquaStop WallSeal™ using IBA's exclusive products and methods to deliver a secure and healthy basement.
How the AquaStop WallSeal™ Vapor Barrier Works 
After a certified inspector from Innovative Basement Authority assesses your basement and concludes that the AquaStop WallSeal™ Vapor Barrier is needed, it is integrated with our comprehensive range of basement waterproofing solutions.
The installation involves the following steps:
Wall cleaning and preparation.
Secure attachment of AquaStop WallSeal™ sheets to the walls.
Installation of internal drainage and other associated components.
Placement of a sump pump at the basement's lowest point.
Connection of the internal drainage system to the sump pump.
Integration of a basement dehumidifier.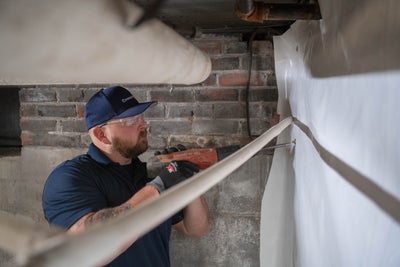 Here's a breakdown of how the entire system functions:
Any water entering through the basement walls is immediately directed behind WallSeal™.
WallSeal™ then channels the seeping water to the internal drainage system.
The water in the drains is directed to the sump pump.
The sump pump then expels the accumulated water from its basin.
Lastly, the dehumidifier eliminates any residual moisture in the basement.
When these water management elements are installed by IBA, you can be assured of a reliable, professional installation.
Why Our Basement Wall Vapor Barrier is the Best Choice for Your Home 
The AquaStop WallSeal™ Vapor Barrier distinguishes itself from other vapor barriers because of:
Superior, 12-mil thick substance ensuring optimal moisture defense
Material that is impervious to water and resistant to mold
Permanent bonding to walls to avert leakages
Flawless incorporation with our extensive waterproofing system
Long-term warranty coverage
Availability of annual maintenance programs
Connect with Innovative Basement Authority for Vapor Barrier Solutions!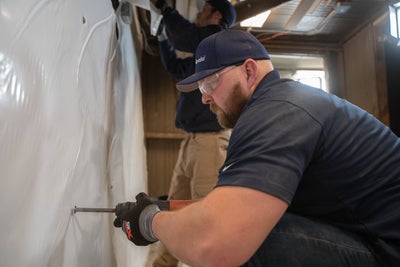 Avoid the troubles of a wet basement by installing our exhaustive basement waterproofing solutions.
Contact Innovative Basement Authority for a free, no-obligation inspection and estimate. Experience unmatched customer service and exclusive products to strengthen your home with Innovative Basement Authority, the trusted name in basement solutions. 
FAQs
Yes, it is developed to create a healthier living environment by reducing moisture and preventing mold growth. 
Generally, our proficient team can install the entire system within a couple of days, subject to basement conditions and additional required measures. A clear schedule and installation date will be provided when you opt for our services. 
While designed as a permanent solution, it is recommended to have annual inspections to ensure optimal functioning. Our team will perform the necessary inspections and modifications to sustain ideal conditions. 
Publish Date:
Last Modified Date: