Crawl Space Dehumidifiers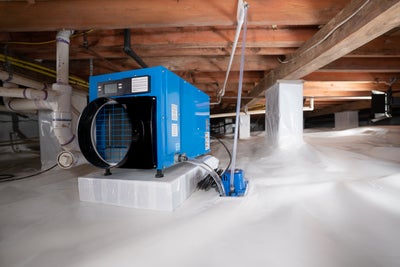 Issues like persistent dampness, mold, and musty smells often afflict crawl spaces, posing risks to your home and health. Fortunately, these can be avoided. 
Innovative Basement Authority provides comprehensive solutions to these challenges. Our AquaStop™ Crawl Space Air System, a key part of our crawl space encapsulation service, effectively manages moisture and its harmful effects.
Known for our expertise in crawl space encapsulation and moisture control, homeowners across the region rely on us to keep their homes safe and dry.
This page will inform you about our crawl space dehumidifier's advantages, how it enhances your home, and its value as an investment.
What is the AquaStop™ Crawl Space Air System?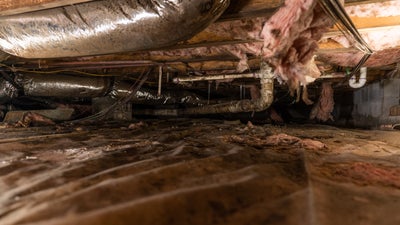 The AquaStop™ Crawl Space Air System is more than a simple dehumidifier. It's a complete solution for moisture management that purifies air, maintains humidity levels, neutralizes odors, and prevents mold. 
Designed for the crawl space's' unique needs, it excels in performance, removing up to 100 pints of moisture daily. This dry environment minimizes the risks of mold, structural harm, and pest infestations.
Yet, this dehumidifier is part of a broader strategy for a healthy home.
Addressing crawl space moisture often requires a comprehensive approach, including vent sealing, sump pump installations, and full encapsulation with a vapor barrier. Combined with these techniques, this innovative air system guarantees a healthy, structurally sound, and moisture-free crawl space and home.
Signs You Need a Crawl Space Dehumidifier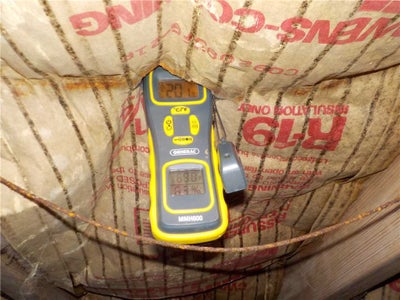 Indicators that your home might benefit from a crawl space dehumidifier include: 
Condensation on plumbing and ducts
Frequent allergies or illnesses
These symptoms suggest excessive moisture or drainage issues in your crawl space, requiring prompt and skilled intervention to prevent more severe problems.
Is a Crawl Space Dehumidifier Necessary? 
Yes, a crawl space dehumidifier is crucial for the health of your home and family.
Without one, uncontrolled humidity will continue to damage your home's structure and air quality, leading to expensive repairs. A dehumidifier stops existing damage and safeguards against future problems.
While a DIY approach with a standard dehumidifier might seem appealing, it's inadequate for crawl space moisture challenges. Ordinary dehumidifiers lack the necessary power and capacity, leading to constant emptying and inefficient dehumidification.
Choose Innovative Basement Authority's professional crawl space dehumidification system for optimal results. Our solutions effectively tackle existing moisture issues and prevent new ones.
What Are the Benefits of the AquaStop™ Crawl Space Air System? 
The AquaStop™ Crawl Space Air System offers multiple advantages:
Enhanced Air Quality: The system reduces mold growth and musty smells, improving your home's air.
Structural Integrity: It prevents moisture-related damage like wood rot and foundation issues, preserving your property's value and avoiding costly repairs.
Energy Savings: This ENERGYSTAR-rated dehumidifier lowers energy costs.
Pest Control: By eliminating damp conditions, it discourages pests like termites from inhabiting your crawl space.
To fully reap these benefits, it's vital to use our specialized products and services, which outperform retail options.
How the AquaStop™ Crawl Space Air System Works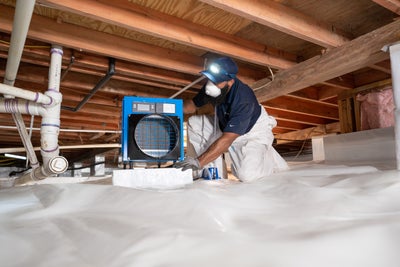 Our approach to integrating the AquaStop™ Crawl Space Air System into a comprehensive home solution includes: 
As crawl space repair specialists, we ensure the dehumidifier works seamlessly with your encapsulation for maximum effectiveness.
Why Our Crawl Space Dehumidifier is the Best Choice for Your Home 
Our unique crawl space air system stands out due to:
It's energy efficiency and ENERGYSTAR certification.
The ability to remove 100 pints of moisture per day.
Self-draining and quiet functioning.
Compact size with optional ducting.
Comprehensive warranty and annual service plans.
Contact Innovative Basement Authority for Crawl Space Dehumidification Solutions Today!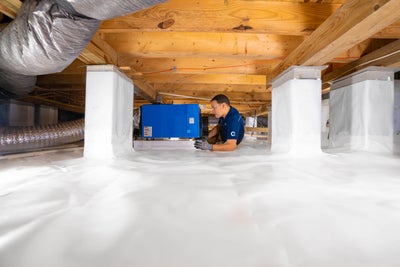 A humid, mold-infested crawl space can negatively affect your home's air quality and your family's health. Let the experts at Innovative Basement Authority improve your environment. 
For nearly 20 years, homeowners have relied on us for custom solutions to repair and protect their homes. Schedule a free inspection and estimate to experience the excellence that distinguishes us in crawl space dehumidification systems. Rest assured, your home's well-being is in the hands of our dedicated professionals.
FAQs
Our dehumidifier's compact design allows installation in most crawl spaces. An Innovative Basement Authority expert will tailor the best solutions for your space during a free inspection. Contact us to find out more.
The cost varies based on your crawl space's size and condition, as well as the required repairs. Innovative Basement Authority offers free inspections, no-obligation estimates, and financing options to suit your budget.
Enroll in our annual maintenance program when installing your home's crawl space dehumidifier and other encapsulation solutions. Our technicians perform routine checks, clean drains, and replace filters during these visits, ensuring the system runs efficiently. Contact us for further details.
Publish Date:
Last Modified Date: