Crawl Space Door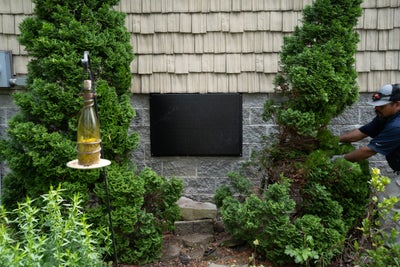 Ignoring a damaged crawl space door can invite external elements like water, air, and pests, resulting in humidity, floods, pest issues, and mold growth. This impacts both your home's structure and its overall health. 
Innovative Basement Authority provides a comprehensive solution through our crawl space encapsulation process. This includes the replacement of ineffective doors with robust, sealed versions.
Recognized as a leader in home repair, we are committed to maintaining the structural integrity of your home and the well-being of your family. Our unique solutions are trusted by homeowners for their effectiveness in enhancing safety and extending the lifespan of their homes.
This page will offer insights into the critical role a sturdy crawl space door plays in safeguarding your home.
What is a Crawl Space Door?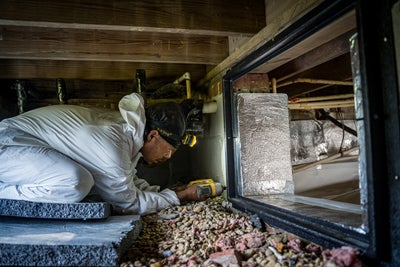 A crawl space door is a crucial exterior entry to the area beneath your home, performing essential functions. It acts as a shield against environmental elements, moisture, and pests while providing access for upkeep and repairs. 
These doors can lose their efficacy over time due to constant exposure to the elements.
Investing in a superior crawl space door is crucial for an effective home protection strategy. The ideal door should be in harmony with your home's crawl space encapsulation and waterproofing plans, providing a comprehensive defense against moisture, water entry, and pests.
This is about more than just door repair; it's about enhancing your living space's overall health and safety, contributing to improved air quality and energy efficiency.
Signs You Need a Crawl Space Door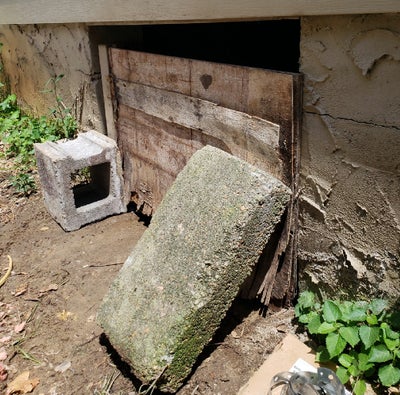 Key indicators that your home may require a new crawl space door include: 
These symptoms suggest the need for a dependable solution to avert further damage and expensive repairs.
Is a Crawl Space Door Necessary? 
A well-fitted crawl space door is essential for effective moisture control in your home. Without it, your crawl space encapsulation system is incomplete, leading to potential structural and health risks.
DIY installations are not recommended, as they often fail to provide adequate protection. Many readily available doors are either wooden, prone to rotting, or metal, susceptible to rust and corrosion.
Choose a robust door customized for your specific crawl space requirements. A door installed by Innovative Basement Authority will integrate seamlessly with our overall home solutions, ensuring a dry, comfortable, and structurally sound environment.
What Are the Benefits of a Crawl Space Door? 
Quality crawl space doors offer numerous benefits:
Enhanced Indoor Air Quality: A secure crawl space door blocks external air, possibly laden with humidity or pollutants, from entering your home, thus improving air quality.
Water Intrusion Prevention: A waterproof door keeps rain and snow from seeping into the crawl space, maintaining a dry interior.
Pest Deterrence: A snug-fitting door makes it challenging for rodents, insects, and other wildlife to enter the crawl space, preventing damage and disease spread.
Completes the Encapsulation System: Superior crawl space doors are vital for fully sealing and enhancing the encapsulation system, safeguarding your home's structure and air quality.
Boosted Energy Efficiency: By isolating the crawl space, you reduce heat loss in winter and cool air loss in summer, leading to enhanced energy efficiency.
Property Value Enhancement: A well-kept crawl space is a positive attribute, indicating diligent home maintenance.
Opt for Innovative Basement Authority's proprietary solutions and expert services to maximize these benefits. Our products are engineered for outstanding durability and performance, surpassing standard big-box store offerings.
How We Install Crawl Space Doors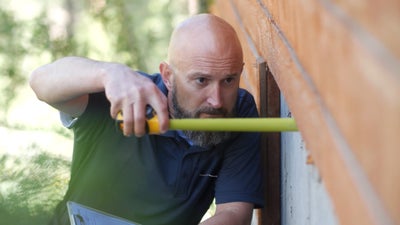 Crawl space doors are part of a broader crawl space encapsulation strategy. Our team's installation process includes: 
Evaluating and measuring the door during an inspection.
Removing the old door and preparing the opening.
Installing a new, secure, sealed door, custom-fitted to your needs.
Sealing any open crawl space vents.
Insulating the crawl space walls.
Applying a vapor barrier on the walls and floor for complete encapsulation.
Installing a dehumidifier in the crawl space.
Conducting regular maintenance checks for ongoing protection.
Innovative Basement Authority's experts ensure a precise, durable fit for your access door and other encapsulation solutions, with meticulous attention to detail.
Why Our Crawl Space Doors are the Best Choice for Your Home 
Our crawl space doors excel due to:
Their construction from materials resistant to rust, corrosion, and wear
Design that endures through seasonal variations
Custom fitting for exact crawl space requirements
Compatibility with our other crawl space solutions
Coverage under our annual maintenance service plans
Get in Touch with Innovative Basement Authority for Crawl Space Doors Today!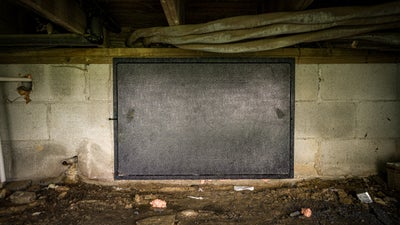 Ignoring damaged or missing crawl space doors can have serious repercussions on your home and family's health. Ensure their safety with expertly fitted crawl space doors and encapsulation solutions from Innovative Basement Authority. We help you create a healthier living space with reliable, top-tier repairs. 
Homeowners have relied on us for nearly 20 years to repair and safeguard their homes, and we invite you to experience our commitment to excellence. Contact us now for a free crawl space inspection and a no-obligation estimate. Rest assured, your home's air quality and structural integrity will be protected from moisture-related harm.
FAQs
DIY installations for crawl space doors are not advised. Doors from general retailers often fail to provide a precise, sealed fit, and their materials are prone to damage over time. Reach out to Innovative Basement Authority for a free crawl space inspection. We customize our full line of products to suit your specific requirements.
The duration of installation varies based on the damage extent and other necessary repairs. When combined with additional crawl space encapsulation solutions, our team can complete the process within a couple of days, prioritizing efficiency without sacrificing quality. Contact us for a free crawl space inspection and repair estimate.
The cost depends on the door size and other encapsulation needs for your crawl space. An accurate cost estimate will be provided during a free inspection by an Innovative Basement Authority expert. We also offer no-obligation quotes and financing options to facilitate your investment in your home's health.
Publish Date:
Last Modified Date:
Explore more problem signs